Starting the Dissertation
The dissertation is a monumental project that takes time, dedication and perseverance. Sometimes, when a project is so large, it can be challenging to know where to even begin. How do you take that first step?
We have put together a list of steps for you as a guide to help you begin this process. Do you have to follow each one in the order we suggest? No! This is a suggestion. It is important to note here, your dissertation is yours. You get to make the final decisions about everything you include, the way in which you do it, and what makes logical sense to you as you complete it. You'll be given advice and suggestions along the way, but again, you have the power to make any and every decision about your final product.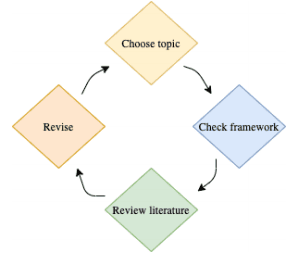 Resource
All of the steps below are compiled in a checklist you can download and check out as you go. Please see the checklist here.
Keep in mind that some steps will happen concurrently – you can see the process as a cycle.